This week Microsoft took over gamescom, the world's biggest video games expo (even better than E3!) in Cologne, Germany. The Xbox maker hosted a media briefing, while the competition–namely, Sony and Nintendo–sat on the sidelines this go-around. The briefing played mostly like a reiteration of Microsoft's E3 presentation, highlighting Xbox's "greatest games lineup in history." Numerous upcoming titles were previewed. Among the most prominent are these Xbox One exclusives: Remedy Games' Quantum Leap, a "cinematic, story-driven action game" with a live action show baked inside is to Xbox One on April 5, 2016. Actors Shawn Ashmore (X-Men, The Following), Dominic Monaghan (Lost), Aidan Gillen (Game of Thrones), and Lance Reddick (Fringe) are among the talent lending their likeness to the game. ReAgent's cooking up Crackdown 3, the next installment in the third-person open world shooter, and it lands on Xbox One in summer 2016. It supports a 4-person co-operative campaign mode. Befriend a dragon in PlatinumGames' Scalebound, an action-adventure RPG from renowned game director Hideki Kamiya, coming fall 2016. Killer Instinct Season 3 arrives in March with cross-platform functionality across Xbox One and Windows 10. From Mojang (the makers of Mincraft) and Oxeye Game Studio comes Cobalt, a new 2D platformer with multiplayer support. This one is coming to Xbox One and the 360 in October; the alpha version is out now for PC and Mac today. KickStarted game We Happy Few, from Compulsion Games, is a first-person stealth game that looks to be as unsettling as it does fun; it's due out sometime next year for Xbox One and Windows 10. Halo Wars 2, from 343 Industries and Creative Assembly (Total War, Alien: Isolation), capped the briefing and received big applause from the press in the audience. The sequel to the 2009 real-time strategy game is coming to Xbox One and Windows 10 in fall 2016.
For more from Xbox at gamescom, including software updates and new hardware announcements, jump after the break. (Click here for more…)
On Wednesday Sony took the stage in New York to formally introduce their next-generation console, the PlayStation 4. Though the company failed to show industry developers, members of the press, and gamers watching a live stream from all around the world what the actual console looks like, it did reveal two new PS4 accessories (namely the DualShock 4 wireless controller and the PlayStation 4 Eye motion sensing camera) and it did go into some detail about how powerful and socially integrated the system is. Read on to learn everything there is to know about Sony's next-gen vid-game console. (Click here for more…)
Ahead of the Electronic Entertainment Expo that officially begins on Tuesday, Nintendo has kicked off the festivities with a "Nintendo Direct Pre E3 2012" video featuring the company's president Satoru Iwata and the upcoming Wii successor. He informs the press and gamers around the world that Nintendo's E3 press conference will focus mostly on Wii U software, and so the Pre-E3 video is used as a platform to expand upon Wii U hardware and social infrastructure.
First, Iwata unveiled the final product version of the Wii U's tablet-esque controller that is now officially called the Wii U GamePad. (The name is derived from the original NES controller that was also referred to as a "GamePad" since it was the first of its kind to not feature a joystick.) The controller has been tweaked and refined since its prototype days to provide maximized comfort. Most significantly, the two Circle Pads are have replaced by clickable analog sticks. Underneath the D-pad there's a marker for the controller's built-in NFC functionality; it is here where gamers will be able to place physical objects to enhance gameplay. The plus and minus buttons have been moved to the right side of the controller underneath the ABXY buttons. Along the bottom underneath the touch-capable screen is a new button labeled TV Control; clicking it opens up a TV remote app that turns your GamePad into an infrared remote control and guide for channel surfing. Around back the grips have been slightly transformed to improve ergonomics.
Next, Iwata unveiled a new accessory for the Wii U. Yet another controller and this one's called the Wii U Pro Controller. Taking design cues from the original Wii's Pro controller and Microsoft's Xbox controller, Iwata describes the new peripheral as a "lighter, and maybe more attractive for longer, more intense forms of gaming" alternative to the GamePad. As you'll notice in the gallery below, the Pro Controller is shown off sporting a slick coat of black; perhaps this is a sign that the Wii U will also come in black when it ships later this year.
Iwata wrapped things up by introducing Nintendo's giant leap into the social space with Miiverse. When you turn on your Wii U, the Miiverse serves as your homescreen. It looks like Mii Plaza from the current Wii, with all your custom-made Miis mingling around a big white space, but this is so much more than that. Miiverse brings together your avatar, all the avatars you've created on the console, your friends' avatars, and avatars of people from your country that are playing the same games as you. Miis are organized around the games and apps they are currently involved with. You can interact with this giant community of Miis via text messages and drawings that are sent through the GamePad. In addition to sharing messages to gamers in your locality and around the world, you can capture screenshots from games and share these too. Iwata says that developers will be able to take advantage of this messaging system inside their games to make for a more communal gaming experience. (Iwata makes the point that even if you are playing a game alone in your living room, you are not truly alone because the sense of community with the Miiverse is always there.) Iwata confirms that the Miiverse is destined to bring Nintendo gamers together like never before by making it accessible through web browsers on PCs, smartphones, and of course Ninty's portable offering the 3DS. This social expansion, however, will not be available immediately at launch.
E3 is just around the corner, and Nintendo is ready to show off what really counts (read: the games) when they take the stage for their press conference on Tuesday at 9AM PST. The Wii U hardware and social network contain a goldmine of gaming potential, but in the end it always comes down to the software lineup. Will Nintendo impress with games beyond their typical lineup of first-party gems starring the company's mascots Mario, Zelda, and Metroid? Keep it right here for the latest from Nintendo, Microsoft, and Sony as E3 kicks off later this week.
Check out the gallery below to see pictures of the final Wii U GamePad, the Wii U Pro Controller, and glimpses at the Miiverse interface. Jump after the break to watch Iwata's half-hour Pre-E3 clip.
In a game-centric press release (in full after the break), Nintendo managed to squeeze in a single paragraph officially announcing a new accessory for the 3DS. The Circle Pad Pro, which launched on December 10 in Japan, serves as a cradle enclosure for the handheld device and adds a second analog stick to the right side and three shoulder buttons (L2, R1 and R2). Though it certainly makes your 3DS thicker and heftier, sources claim that the optional accessory adds a whopping 480 hours of battery life working off one AAA battery. In order for games to "see" the cradle and utilize the second analog stick and additional shoulder buttons developers will have to code their software appropriately. Nintendo says that upcoming releases Resident Evil Revelations and METAL GEAR SOLID 3D Snake Eater will in fact be compatible with the Circle Pad Pro. Want one? It will be sold exclusively through Gamestop starting February 7 and will sell for $19.99.
Though none of these items were announced during Microsoft's E3 keynote, there are certainly worthy of mention here. According to a recently outed Microsoft press release (in full after the break), cloud saves and beacons are coming to Xbox Live.
"Cloud Storage for Game Saves and LIVE Profile" — Here at Xbox LIVE we listen to your feedback. We are making it easier for you to sign into your Xbox LIVE account from any console at any time to access your game saves and full profile, including items such as Microsoft Points to make purchases, Achievements and friends. Cloud storage will allow you to enjoy the same great Xbox LIVE gaming experience even when you're not in your own living room by giving you the option to store your "game saves" securely in the Xbox LIVE cloud instead of on a portable memory unit or your console's hard drive. Gone are the days of "gamertag recovery." Now all you need to do is sign in, no matter where you are!
"Beacons" — We want to make it easy for you to connect with friends over your favorite games on Xbox LIVE, so we are introducing Beacons to the service. Beacons are a way to tell your Xbox LIVE and Facebook friends that you want to play a game on Xbox LIVE. By setting a Beacon, you tell Xbox LIVE what you want to play. Then, Xbox LIVE lets you know when friends are playing or want to play the same game. With Beacons, no matter what you're currently doing on Xbox LIVE your friends know that it's ok to ask you to play your Beaconed games. Imagine sending out a Beacon to let your friends know you're interested in playing "Halo," while watching a movie on Netflix. It's about making it easier for you to share and discover games and multiplayer opportunities with friends on Xbox LIVE.
In addition to these new software enhancements, a new accessory and limited edition console are coming out of Redmond, too. First up is the Xbox 360 Wireless Speed Wheel. It's "completely wireless and controlled intuitively with precise steering, standard controller buttons/triggers, and haptic feedback with rumble." It even includes "green bands of lights on each handle to provide visual cues when necessary." And according to Microsoft it is compatible with all racing games right out of the box. But you know gamers will likely pair it with their new copy of Forza Motorsport 4. The wheel releases in early October for a cool $59.99.
Next and last is the Gears of War 3 limited edition console. For $400 Gears fans will get the exclusive red and black console design with two matching wireless controllers, a 320GB hard drive built-in, a wired headset, some DLC, and a copy of the game. And get this–"the power and eject buttons have been customized with unique sounds from the Gears of War universe. Drops September 20. Dig the controller design but don't need a new Xbox? Come August 11 gamers can purchase it separately for $59.99. Check out images courtesy of Joystiq in the gallery below.
[Via Engadget 1, 2; MajorNelson]
Is that minuscule Bluetooth headset Sony outed in November not good enough for you? Sony has invented a heavier duty headset for the audiophile living in all of us. The official PS3 Wireless Stereo Headset features 7.1 virtual surround sound that "lets you hear all the minor in-game audio clues clearly" and was "designed with comfort in mind for hours of gameplay." The cans, which also feature a retractable mic, connect to the console via the included USB Wireless Adapter. Volume controls and microphone mute are easily accessible on the headset itself, and gamers will see "on-screen headset status updates" that provide battery status. The headset goes on sale this September for a cool $99.99.
[Via PlayStationBlog]
Since landing on store shelves November 4, Microsoft has sold 10 million Kinect sensors worldwide. In addition, Kinect drove significant game sales with more than 10 million standalone Kinect games sold worldwide to date. It's true–the sensor does come bundled with a free game called Kinect Adventures; but notice that the company specifies so many standalone Kinect games have been sold, so they're not cheating us with that number. Guinness World Records has stepped in to name Kinect for Xbox 360 the "fastest selling consumer electronics device." We all saw this feat coming; 1 million sensors were sold during its first 10 days on the market and then over 2.5 million of them were reported to have been sold in 25 days. To say this motion accessory is a wild success is quite the understatement. Sony, your move.
[Via Engadget]
Why oh why would you ever buy something so unequivocally unnecessary?
The LapDock turns your iPad into a laptop. Just dock your iPad into the LapDock, add a wireless keyboard, and bingo – instant laptop!
Besides the addition of being enclosed in a wooden case, you could bypass this less than intriguing alternative and simply purchase Apple's iPad Keyboard Dock which comes with a keyboard and stands it in the upright position.  The iPad is not a laptop, and so you shouldn't treat it that way.
[Via iPadLapDock; Engadget]
Just in time for Valentine's Day Nintendo is now shipping pink and light blue-colored Wiimotes.  It comes bundled with the Wii MotionPlus attachment.  Priced at $54.99 it'll make any gamer chick ecstatic on this holy day of love.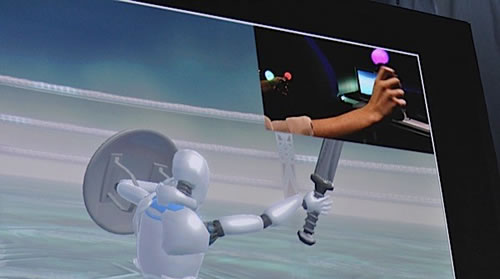 Last we heard the tentitively titled PlayStation Motion Controller was due out this Spring.  But that was too good to be true, am I right?  Sony has gone ahead and delayed the mystical motion controller until "fall 2010" globally.  The delay affects the following countries: Japan, Asia, North America, and Europe.  Why the delay?  Kaz Hirai, President and Group CEO, Sony Computer Entertainment Inc.: "We have decided to release the Motion Controller in fall 2010 when we will be able to offer an exciting and varied line-up of software titles that will deliver the new entertainment experience to PS3 users."  They gotta pump out the games before the accessory is let out into the wild.  Makes sense.  With Microsoft's Project Natal slated to release "Holiday 2010" the final quarter of this year looks like it's going to be an exciting one for gamers.  Full press release after the break.
[Via Engadget]
For all you DJ Heros out there here's something to scratch about: the turntable accessory is now available to purchase separately from the game.  It'll cost you about $70, but it'll enable two-player DJ battles to commence.  Think about it.
[Via Engadget]
This holiday season Nintendo will ship black versions of the Wiimote, WiiMotionPlus, and nunchuck.  The Wiimote and the MotionPlus accessory will ship together as a bundle, and the nunchuck will be sold separately.  Still, though, there is no word on the coveted jet black Wii console shipping in North America.  In related news, the DSi is widening its color palette with two new flavors: pink and white.  They will be made available on September 15.  In less related news, the next iteration of Wii Fit dubbed Wii Fit Plus ships October 4.  You can get the Wii Fit Plus bundle that includes the original Wii Fit, the new Wii Fit Plus, and the balance board for $99.99 or you can opt to simply get the new software for a mere $19.99.  Plus features 15 brand new mini-games that promise to be more Americanized for our Western-bent methods of exercising.  See the gallery below for images of the new hardware.
What is this term 'bokeh?'  What does the bokeh filter do, exactly?  According to the product's website:
One of the fastest growing fads in modern photography is bokeh shapes. Bokeh shapes are shapes of light in the blurred background of photos. These shapes are achieved by using a bokeh filter over the camera lens. Bokeh is a photography term derived from the Japanese word for blurred. Bokeh refers to the unfocused background in a photo.  The Bokeh Filter is a simple filter that clips onto the end of your lens. This filter blocks out pieces of light that cause the bokeh (blur) in your images to take the shape of the filter.  The Bokeh Filter has a clip-on design that allows you to quickly apply the filter to your photos.
Cool, huh?  Check out additional images below of the bokeh filter in use.
[Via Gizmodo; TheBokehFilter]