On Tuesday Microsoft launched three new video apps on Xbox 360: HBO GO, Comcast Xfinity TV, and MLB.tv. All three apps require that you be a subscriber to each of their respective services, obviously. With HBO GO, Xbox owners can now access every episode of every season of HBO's most popular programming like Game of Thrones and The Sopranos. If you're a Comcast subscriber, you can now view on-demand content via your console. And MLB.tv gives sports fans yet another way to stream live every out-of-market regular season game in HD with features like split-screen, a mini guide, and a personalized My Teams page. These apps come baked with Kinect integration, meaning you can put the controller down and use gestures and your voice to control the menus and playback. If you've got an Xbox 360, turn it on and download these video apps for free today. Game of Thrones returns to HBO for a second season tomorrow night, so this just might be the best way to catch up quick.
In related news, Microsoft's Yusuf Mehdi told the LA Times that Xbox owners are spending more time with the "video game" console to watch video and listen to music than play games. "What we're seeing is that people are turning on the Xbox to play games and then keeping it on afterwards to get other types of entertainment," he said. With Netflix, Hulu, ESPN, Verizon FIOS and now HBO GO, Xfinity TV, and MLB.tv, the term "video game console" is starting to get blurry as "entertainment hub" starts to come into view, at least in regards to Microsoft's Xbox brand.
Jump after the break to watch the new video apps in action.
Last December it was announced that Comcast would supercede General Electric to become NBC Universal's controlling parent company.  Last week brought news that NBC Universal President and CEO Jeff Zucker will be leaving his post when the merger is finalized later this year.  "Now, it is clear to me that this is the right decision for me and for the company, said Zucker.  Comcast will be a great new steward, just as GE has been, and they deserve the chance to implement their own vision."  Unfortunately Zucker will not be remembered for much success in the NBC Entertainment division.  NBC is currently in fourth place (behind CBS, FOX, and ABC) in overall network ratings and who can forget last year's terrible decision to axe Conan, give Jay Leno is own show, and wipe out regular primetime programming in the process.  NBC needs new leadership and vision if it wants to play catchup with the other networks.  I'm glad Zucker (publically, at least) sees it this way.
[Via CNN]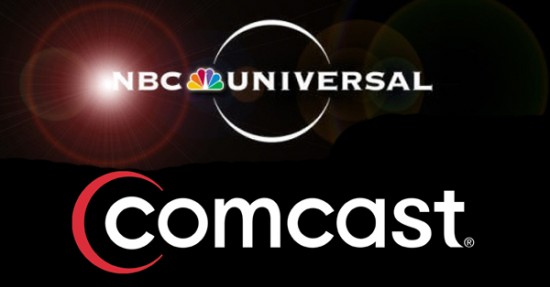 General Electric, NBC Universal's parent company, is no longer its controlling parental unit.  Comcast, the largest cable operator in the US, has officially merged with NBCU.  It owns 51% of NBCU compared to GE's slightly lower sliver of 49%.
So how does this affect you?  Well it doesn't, yet.  It will take at least one year for the merge to finalize.  However, though, it leaves this to ponder: Now a cable company owns a major network that reaches almost every US household.  This may seem unhealthy, right?  Look after the break for some " merger nutrition facts" regarding this matter.  A lengthly press release follows.
What about everyone's favorite TV show streaming site, Hulu?  How will that fare in the future?  Comcast COO Steve Burke: "NBC has been careful not to put too much cable content on the Internet. We think that's a smart strategy… We think that going forward, you're going to continue to have free broadcast stuff on Hulu, and cable stuff on TV Everywhere."  There's been word of "Hulu Premium" content that users will have to pay to watch, what of that?  "That's certainly not in the cards."  Oh, good.
[Via Engadget; Gizmodo, here & here]