OnLive, that gaming on-demand cloud-based service you've been hearing so much about, has found its way to the iPad but not in the way you might suspect.  No you cannot demo and purchase games on Apple's ubiquitous device; what can do, however, is hook up to OnLive's servers to watch other people play games.  With the free OnLive Viewer app you can spectate live gameplay, view and rate Brag Clips, add your favorite players to a friends list and send them messages, and view trailers for current and upcoming games.  Says John Spinale, OnLive VP of Games and Media: "Watching live games and interacting with the people playing them takes social gaming to an entirely new level. It's unlike any other experience. And people love it."
But this is just the beginning for OnLive on portable devices.  The company promises that the update will receive an update sometime next year that will allow users to demo, purchase, and instantly play games and create Brag Clips–so much more than just spectating.  What they're waiting for is games to become "touch- or motion-aware" so that gameplay is more suitable for a touchscreen experience a la the iPad.  CEO Steve Perlman says that the app "is the last piece of the puzzle to unify the worlds of TV, computing and mobile all under one real-time cloud-based platform, enabling previously inconceivable experiences, capabilities and live, video-rich social interaction."  Beyond gaming, Perlman's plan is to have the app bring the touch-based Windows 7 OS to OnLive users, effectually porting Adobe Flash and Microsoft Silverlight to iOS and Android devices.
For now you're stuck with spectating–but it's not all that bad actually. Download the free app here and give it a whirl.  An Android version is currently in beta.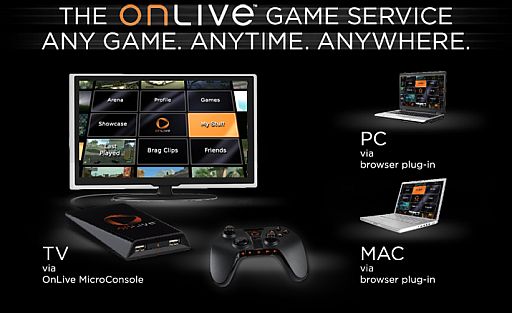 OnLive, the gaming on-demand cloud-based service, is no longer requiring a monthy fee to access its features.  This is really great news, so great in fact I'll allow Founder & CEO Steve Perlman to explain the sudden change in philosophy.
Of course, we've had a promotion waiving the monthly fee for the first year, so this announcement is confirming what we had hoped—that we can continue without a monthly fee beyond the first year. Although we wish we could have confirmed no monthly fee from the get-go, pioneering a major new video game paradigm is hard: we had to first grow to a large base of regular users before we could understand usage patterns and operating costs. Now that we've reached that stage, we can confidently say a monthly fee is not needed, which deserves a double WOOT! WOOT!
Woot woot, indeed.  The original plan was to waive the monthy fee for the first year, as Perlman explained, and then charge $4.95/month for the second year.  All that's been scrapped.  Instant-play demos, massive spectating, brag clip videos, messaging, and friending are all absolutely free to access now.  The only time you'll need to whip out a credit card is if you decide to buy a 3-day or 5-day PlayPass to stream a full game.  You may also decide to purchase a game for keeps.  All in all this is an exciting move forward for OnLive.  And coming this holiday season are the MicroConsole TV Adapters and OnLive Game Pad Controllers that promise to bring the games from the PC to the TV hassle-free.  So watcha waiting for?  Get your streamin' on.
OnLive is a gaming on-demand cloud-based service that's able to stream video game titles from massive servers around the U.S. straight into your home.  Man is that a packed sentence.  Let me break it down for you.  OnLive has three data centers in the country (east coast, central, and west coast) that house large servers; these servers act as hosts to a bunch of video games.  If you sign up for the OnLive service and become a member of the community, the servers will pump video game content from the data center nearest you to your Internet-enabled PC or Mac.  Again, it's essentially gaming on-demand.  After installing a plugin in your browser, you can launch OnLive and gain access to a growing library of video game titles.  It's that simple, really.
The OnLive interface is neat.  There's a game marketplace that allows you to choose from a wide selection of games.  With a single click you can play a game; or you can find out more about the game before you dive in by watching game previews & trailers.  You can even watch other OnLive members play the selected game in real time.  The interface drags you into the action of other players, and this is a great way to get a glimpse of a game's visuals and game style.  Besides strictly being there for on-demand gaming, the service hopes to form a community of gamers with features like profiles, friends lists, and brag clips (you can record gameplay and share these moments with other OnLive members).
What's most exciting about the OnLive service is that it does away with the need for over-the-top and expensive hardware requirements for games.  Crysis, a game that is known to be hardware intensive, will play smoothly and look great playing off an old Macbook or PC laptop.  The secret formula is OnLive's proprietary video compression chips that pump out the games from the servers over the Internet and to your computer.  As long as you have a 4-5 Mbps Internet connection you will have no problem playing what used to be hardware intensive games in HD (a 1.5 Mbps connection is recommended for SD quality).  I really want to hit this point home as well: Since this is gaming on-demand, the service brings together games from all major game consoles (Xbox, PlayStation, PC) and enables you to play them right on your PC or Mac.  No need for proprietary hardware and cables.  All you need is an Internet connection, a computer, and a keyboard and/or Xbox-type USB controller.
There's gotta be some lag, you're thinking to yourself.  I was skeptical at first, too.  But I gotta say, after playing Just Cause 2 off an old Macbook over the OnLive service, I did not notice the slightest bit of latency between my controller button-mashing and the on-screen action.  It truly felt as if I was playing the game locally off a computer or video games console.  And what's fascinating is that Just Cause 2 was running off a server more than 500 miles away in Santa Clara!  Though there likely is some latency if you want to get all technical, I honestly did not pick up on it during my brief session of gameplay.  I was told that as long as you are within a 1000 mile radius of an OnLive data center you should not experience noticeable latency.
Now let's talk pricing and availability.  OnLive is available to use today (in fact it was turned on a day after my interview took place).  You sign up for the service at their website.  The "OnLive Founding Members Program" is backed by AT&T and it offers the first year of use for free (!), followed by a $4.95/month fee for the second year.  There's no contract requirement which means if there's a month you don't feel like using the service just don't for it that month.  Right now it looks like the company is slowly opening the gates to the OnLive community; if you want to sign up to play you have to sit on a waiting list.  Bummer, I know, but the service is still in its infancy and I'm sure the company does not want to overload its servers this early in the game.
And what about software partners?  You will not be disappointed on this front.  Just announced was partnerships with Sega, Capcom, Konami, and Square Enix.  Popular publishers like EA, Ubisoft, THQ, Warner Bros. Interactive, and Disney Interactive are also bringing their titles to the service as well.  I'm told new publishers are jumping on the OnLive bandwagon all the time, and this is great news for gamers.
Beside the addition of developer support, OnLive will be adding their MicroConsole to the mix later this year.  Basically it's a small (and I'm told inexpensive) piece of hardware that will allow members to play the streaming games on their HDTVs.  It will support up to four wireless controllers, multiple Bluetooth headsets, and it packs two USB ports for wired controllers and keyboards.
Is OnLive the future of gaming?  Though it's too early to tell, you can definitely see the potential it brings to the table.  With OnLive there's no need for high-end graphics cards and to run to a store to purchase a game disc.  No longer do you have to worry about upgrading hardware to play the latest and greatest games.  If you've got the proper Internet connection and live within range of a data center, you are golden.  I've experience it with my own two eyes and thumbs–the latency was non-existent on the show floor.  Though my skepticism has been lowered down a notch, I'm still going to wait for a final verdict after I give the service a try on my own computer at home.  Even if OnLive doesn't catch on and become widely popular, replace game consoles and eliminate the graphics cards arms race, you can bet everyone from industry leaders to gamers will turn to this service as an example of how the next phase of video game distribution was imagined and first put into place.