Here we are again: April Fools Day. Only this time around it's 2013 and no one is safe. We start, as is tradition, with Google's masterful pranks. It's all after the break…or is it. (Click here for more…)
We all knew it was coming, and now it's finally here. Hulu Plus is now available to enjoy on Xbox 360. Microsoft joins Sony in becoming the second video games console to support access to Hulu's collection of TV shows and movies. Now check this: Courtesy of Jack Link's Beef Jerky (ya'll remember the Sasquatch?), all Xbox LIVE members (that includes paying Gold subscribers and free Silver members) will be able to access the entire Hulu Plus collection on their consoles for one week, specifically from April 29 through May 6. Setup is simple. Download the Hulu Plus application on your Xbox 360 and you'll be instructed to enter a code at hulu.com/plus/unlock. After giving Hulu your name and email address (no credit card required!), you're all set. Free access to Hulu's mega-collection of popular TV shows and movies from the Criterion Collection right at your fingertips. No, really; Kinect support is live at launch. Check out some stills of Hulu on Xbox in action below and begin your free trial before it's too late. Once May 6 passes, you'll have to be an Xbox Live Gold member ($50/year) and a Hulu Plus subscriber ($7.99/month) to continue accessing the content.
[Via HuluBlog]
(Click here for more…)
In honor of April Fools Day the team at Hulu has redesigned the video streaming website to show what it would have looked like if it existed way back in the dial-up days of 1996. Notice the basic text, HTML frames, the page counter (stuck at 54), a "Sign our Guestbook" button (that brings you to the Simpsons episode "April Fools Origin"), shoutouts to Netscape Navigator, Internet Explorer, and the currently under construction Geocities neighborhood notice. Shows like The X Files and Sliders take center stage at the top of the page. And I won't tell you what happens when you go to play a video. Find out for yourself at Hulu.com.
The Confession, fully previewed here, is a thriller that follows a hitman (Kiefer Sutherland) who has a theological discussion with a priest (John Hurt) about why his victims deserved to die. The series streams exclusively on Hulu; 10 five-to-seven-minute webisodes have been produced. The first batch of "chapters" have been made available to watch starting today. In "Chapter 1″ Sutherland enters a Catholic church confessional where he confronts a priest at gunpoint and forces the holy man to listen to his sins. Sutherland makes it a point that it has been 35 years since his last confession. The episode switches back and forth between the confession and action-packed flashbacks highlighting the hitman's misdoings. Having watched the first episode I can say though this new character is not Jack Bauer, Sutherland certainly can't contain the man he played for so many years. Also of note, 24's composer Sean Callery has produced the music for this series, and you can hear (ever-so-slightly) hints of 24's sound effects. Whether or not you're a fan of the genre-defining FOX show you should make some time to watch this top notch, high caliber series being distributed over the web. Graphic scenes do pop up, so if you haven't signed up for a free Hulu account you'll have to do that to access the video page.
Watch the intense trailer above, then head over to Hulu and stream the first three chapters of The Confession.
Microsoft has announced a new Kinect-specific update for Xbox 360 owners.  Here's out the makers explain it: "With Avatar Kinect, you can control your avatar's facial expression, head, and arm movements. As you talk, frown, smile, or scowl, your voice and facial expressions are enacted by your avatar, bringing your avatar to life!"  In other words, the update will give you a more detailed level of control over your avatar.  Right now the Kinect captures basic movements, such as arm flails, moving side-to-side, jumping, and ducking.  With Avatar Kinect, the sensor will be able to recognize a new slate of physical actions.  Microsoft is highlighting a virtual hangout where you can meet up with up to seven friends and converse with them using your avatars.  You'll be able to select from 15 virtual environments.  Think of it as Wii's Mii Plaza, except this space will allow for broader interaction (detailed avatar movements performed by you, voice support).  Avatar Kinect will hit Xbox 360s later this spring.  Look after the break to see it in action.
In related Kinect news… At CES 2011 Microsoft announced that they sold 8 million Kinect sensors worldwide during its first 60 days on the market; they sold 3 million more devices than they had predicted they would during that launch window.  More news… In a spring update, Hulu Plus will be joining Netflix, expanding users' options when it comes to TV and movie content.  In addition, the two services will be Kinect-compatible.
[Via Xbox] (Click here for more…)
Hulu Plus has already been exhaustively detailed, so let's get right to the good stuff.  For the last four months Hulu has been testing the waters with the $9.99/month subscription based service in a preview period.  Today the streaming service finally officially launched Hulu Plus to the masses.  And at the same time they lowered the monthly fee to $7.99.  Score!  They say, "Any users who subscribed during the preview period will also receive a credit for the difference from the $9.99 preview price to be applied automatically to their next billing cycle."  So that's been sorted out nicely.  In tandem with the launch and price drop, Hulu Plus will now be accessible on Roku boxes. Check out the official PR after the break to see a list of all other Hulu Plus supported devices.  All new subscribers to Hulu Plus receive a 1-week free trial–get started here.
[Via Hulu; Engadget] (Click here for more…)
Hulu is ready to take its premium subscription service to the next level by opening it up to more people.  As of today you no longer need an invitation to subscribe to Hulu Plus; if you're interested, go ahead and register for the service right now.  Is your living room packed with Sony products?  If so this next bit of news should crack a smile.  Hulu Plus is now available to access on 2010 BRAVIA HDTVs and BRAVIA Internet Video Link via the BRAVIA Internet Video platform.  It will "soon" be available on Blu-ray players, Blu-ray Home Theater Systems, Network Media Player, and Sony's DASH.  PS3 owners, listen here: Hulu Plus will open for all of you sometime next week. (Update (11/10): It's available today.)  Since July only those PS3 users who subscribed to PlayStation Plus (a $50/year service) could use Hulu Plus, but now Hulu is removing that road block and allowing all PS3 users with a (free) PSN account to sign up for their service.  PS3 will remain the exclusive video games console with Hulu Plus access through the remainder of the year; it's expected to land on Xbox 360 and Wii sometime in 2011.  PR messages from Sony and Hulu sit after the break.
[Via PlayStationBlog; HuluBlog; Engadget] (Click here for more…)
The rumor mill just couldn't handle it anymore so Hulu decided to make things official: Hulu is expanding its video streaming services to an electronic device near you.  The new subscription-based service does not replace Hulu.com, mind you; it gives TV addicts the option to pay $10/month to access full libraries of TV shows on their computers and many other devices.  So you know how many of your favorite TV shows you watch on Hulu.com are limited to streaming only five episodes at a time?  Hulu Plus subscribers will gain access to every episode of every season "for almost all of the current broadcast shows" Hulu offers.  In addition to having access to modern hit shows like House and Modern Family, Hulu Plus subscribers will be able to watch  "back seasons or full runs" of some classic TV shows.  These include The X-Files, Arrested Development, and Buffy the Vampire Slayer. Hulu calls it "a treasure chest in the cloud for TV lovers."  I concur.  And here's the kicker: all native HD content will stream in 720p high definition.
If you're a Hulu Price subscriber you can take all your Hulu content into your living room and on the go.  I'll list out the devices.  Samsung Internet-connected and Samsung App-enabled TVs & Blu-ray players (available today); Sony & VIZIO Internet-connected TVs & Blu-ray players (support coming Fall 2010); Microsoft Xbox 360 (coming early 2011); Sony PlayStation 3 (coming soon).  Got an Apple device?  There's a Hulu Plus app available in the App Store; it runs on iPhone 4, iPhone 3GS, iPod touch 3G (all running iOS4), and iPad.  And it will stream content over 3G and WiFi.  Score!  You can download the app today for free and watch some free content to test it out for yourself.  It's pretty incredible, the ability to watch all your favorite (network) TV shows in HD away from the computer.  Sure you have to cough up $10 a month but if you're a TV junkie like me, a price like that might just have you consider cutting the cable cord and opting for Hulu all the way.  Unless, of course, True Blood and Mad Men mean too much to you.  Decisions, decisions..
Currently Hulu is handing out invitations for Hulu Plus.  If you want to be considered for the first wave of subscribers, click here.  Hulu says, "We'll be sending out as many invitations as we can each week, and as soon as we're ready, we'll remove the need for an invitation and start bringing in new subscribers without delay."  Look after the break for an informative video about Hulu Plus.
Today Hulu gave their video player a much needed refresh that brings with it a slightly updated look and a bunch of new features.  You can watch a brief guided tour about all the updates in the video embedded above, but I'll run through some of them here.  The base video player is now 720×404 pixels large, that's 25% more surface area than the old player.  When you're watching a video and the mouse is at rest, the player is control-free, meaning on all-screen controls and menus are hidden from view.  There are new player controls that are now streamlined across all videos: normal player, fullscreen player, pop-out player, and embedded player.  New features include adaptive bitrate streaming (as your bandwith fluctuates, you can make it so the player chooses the resolution of the streaming video based on your current speed); ad volume normalization (the player analyzes the volume of your streaming video and normalizes the volume of the ad breaks to match what you're watching); and seek hover preview (when you hover your mouse over any spot in the video, you will see a small thumbnail preview of what's going on at that specific point in time).  Scrub through the video above to learn about some other neat features.  Overall, all the new features and the updated design combine to make a welcome, streamlined refresh of the Hulu video player.  Now about bringing Hulu to mobile devices…
Hulu Confidential – For Internal Use.  Super-secret.  Narrated by Alec Baldwin.  Watch it here.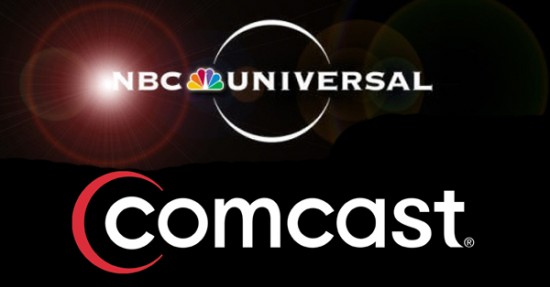 General Electric, NBC Universal's parent company, is no longer its controlling parental unit.  Comcast, the largest cable operator in the US, has officially merged with NBCU.  It owns 51% of NBCU compared to GE's slightly lower sliver of 49%.
So how does this affect you?  Well it doesn't, yet.  It will take at least one year for the merge to finalize.  However, though, it leaves this to ponder: Now a cable company owns a major network that reaches almost every US household.  This may seem unhealthy, right?  Look after the break for some " merger nutrition facts" regarding this matter.  A lengthly press release follows.
What about everyone's favorite TV show streaming site, Hulu?  How will that fare in the future?  Comcast COO Steve Burke: "NBC has been careful not to put too much cable content on the Internet. We think that's a smart strategy… We think that going forward, you're going to continue to have free broadcast stuff on Hulu, and cable stuff on TV Everywhere."  There's been word of "Hulu Premium" content that users will have to pay to watch, what of that?  "That's certainly not in the cards."  Oh, good.
[Via Engadget; Gizmodo, here & here]
Features a surprise visit from some SNL pals.
[Click here to hear President Obama call Kanye a "jackass."  This audio snippet was recored and picked up by TMZ from a pre-interview with CNBC.]
Oh Kanye.  Will you ever, ever learn from your mistakes?  I am a big fan of your music and I have supported all that you do musically.  You have changed the game of hip-hop and rap, and for that you deserve an applause.  However, it is very hard for me to continue accepting your apologies for your reckless acts outside the recording studio and off the tour stage.  Yes, you are a celebrity and that comes with a price of always being watched and analyzed.  But that does not give you reason to act like a total fool every chance you get.  Taylor Swift won her award fair and square, and you had no legitimate reason to destroy her moment.  Thankfully Beyonce is a person with class; she allotted her special time to Taylor, to give her a second chance at thanking her fans, friends, and family.  You could learn a thing or two from the person you rudely interrupted.  In the end, Kanye, it all comes down to this: if you do not change your attitude, help yourself to turn the corner and become a better person I will not support you any longer.  Believe me, this is something I do not want to do.  You are a very talented musician and I respect what you have done with your music and helping kids stay in school with the Kanye West Foundation.  But "sorry" does not cut it anymore.  My final words to you are these:  Change or leave.
This is great news, everyone!!  Creator, mastermind, and genius Joss Whedon has officially come out and stated that a Dr. Horrible Sing-Along Blog sequel is in the works and a story is bring penned right now!
Whedon: "We're in there plugging. The writers are trying to put something together.  We haven't even decided on a venue.  We have a story and we're working that. We're just starting with that.  Doesn't matter if it's big or small, [we're just] just figuring out the story.  We're really excited about what it is. More, I cannot say."
Yes, he is tight-lipped on the details.  Still, the very fact that the Whedon family (papa Joss and sons Zack and Jed) are hard at work on the story is very exciting.  The revolutionary (and Emmy-nominated!) web series made a splash on the Internets with its low budget musical back in 2008.  A sequel is highly anticipated by all Dr. Horrible fans.  Cross your fingers for reprising roles from the extremely talented Neil Patrick Harris, Nathon Fillion, and Felicia Day.  Peace out, but not literally.
*In celebration of this good news, take a time out and watch all three acts of Dr. Horrible's Sing-Along Blog above.  You know you want to.
[Via MTV]
Calling all Losties and non-Lost fans!  The ABC hit Lost is now available to stream in high definition on Hulu.  As of right now, Hulu currently offers Season 1 and the last five episodes of Season 5 to stream (for free, duh).  It's a drag that Seasons 2-4 (and the remainder of 5) are not available to watch yet.  Hulu has issued this statement: "We'll post additional seasons as they are made available."  In related news, Netflix currently offers Seasons 1-4 of Lost, and Season 5 will be added in September.  Don't fret–Lost: The Final Season does not air until January 2010, giving you plently of time to catch-up or re-watch for clues.  Get to it!
[Via IGN]
For more viral videos narrated by funnyman Chris Hardwick watch Web Soup on Sunday nights at 9PM on G4.
If you missed today's episode of AOTS, be sure to check out the lastest comedy bit, "Cylon Dating Game."  I am Cylon #3 (sitting on your far right).  That's right, I'm "Cy-long."  Enjoy my hilarious appearence on G4′s Attack of the Show!
Billy Mays, infomercial king, died of an apparent heart attack over the weekend.  His products, brands, and strong and identifiable personality will live on.  When I first saw an Oxi Clean commercial many years ago, I was so annoyed by it.  As time went on though, I found a place in my heart not only for cleaning products, but also for infomercial maven Mr. Billy Mays.   Rest in peace, Billy Mays.
Check after the break (click "more…") for a very recent Billy Mays interview with Conan O'Brien, a video of some funny outtakes, a very young Billy Mays on HSN promoting Oxi Clean, and an Oxi Clean commercial. (Click here for more…)