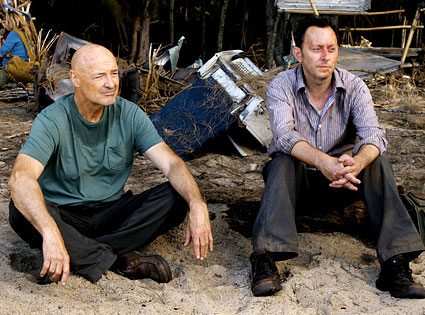 Hey guys remember Odd Jobs? The tentitively-titled show from J.J. Abrams, Bryan Burk, and writers Josh Appelbaum and Andre Nemec that aimed to reunite Lost's Michael Emerson and Terry O'Quinn? Shortly after NBC committed to making a pilot, the buddy-cop show was shelved indefinitely as Emerson went on to star in CBS' Person of Interest and O'Quinn found himself in Marc Cherry's next ABC program Hallelujah (which is now being retooled for next season) and a multi-episode arc on Hawaii Five-0.
Recently EW caught up with O'Quinn and asked him if he sees himself ever working with the man who played Benjamin Linus again. Though the name Odd Jobs and the pedigree surrounding it never came up, the beloved John Locke said this: "I was actually looking to do a series after Lost. Michael and I fiddled around with one and we sort of got through the process of generating some interest in it, and we just didn't come up with a script that everyone agreed on. Michael and I stay in touch; we still talk about that. Maybe we'll make it happen before we get too creaky. I would love to have at least one more good experience like Lost."
So perhaps Odd Jobs will break out of limbo and make it to network TV one of these days. Today we'll just have to manage with the two guys acting on different shows on the same network.
Update: Michael Emerson responds! He tells EW, "I feel very much the same way. I was very gratified to read that in the press. We've both told each other that even though there may be some bumps along the road, sooner or later, we're going to work together." Yippee!
[Via EW]