The man who built Bad Robots Productions has another drama up his sleeve.  J.J. Abrams is prepared to pitch Pulp, described by TV Line's Michael Ausiello as "an hour-long crime drama set in a slightly heightened reality," to the networks as early as next week.  In pure Abrams fashion, he's working with longtime collaborators including Monica Breen and Alison Schapker (Alias, Lost, Fringe) who wrote the script and will serve as executive producers if the show gets picked up.  Ear is to the ground with this one.
If you need a quick refresher, Abrams has three other series in the works: FOX's Alcatraz, NBC's Odd Jobs, and a CBS crime thriller called Persons Unknown.  Next fall can't come soon enough.
[Via TVLine]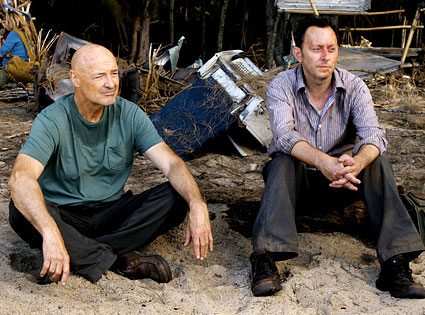 Read that headline again.  Now again.  J.J. Abrams, creator of Lost, is hoping to bring together Terry O'Quinn and Michael Emerson (aka Lost's John Locke & Benjamin Linus) for a new series.  O'Quinn and Emerson would play former black-ops agents in the comedic drama tentitively titled Odd Jobs.  News first broke about a potential reuniting of Lost's brightest stars back in February when O'Quinn told TV Guide about "a TNT-type show that would pair him back up with…Michael Emerson as suburban hit men juggling family issues."  Much time has passed, and now things are starting to heat up again.  Plans to make this show a reality are very real.  NYMag reports that Abrams and collaborators Josh Appelbaum and Andre Nemec (Alias, Mission: Impossible 4) are pitching Odd Jobs to a handful of TV networks.  All I can say is that if these plans do result in a Locke/Linus buddy cop show, the world will be a better place for it.
Update: According to Deadline, this thing is happening!!  After shopping around Odd Jobs (working title) to various networks, NBC came out on top with the winning bid.  It was a nailbiter between former Lost home ABC and NBC, but in the end the Peacock nabbed it.  It's official: The one hour long drama will star the fantastic Terry O'Quinn alongside Lost-mate Michael Emerson.  J.J. Abrams, Bryan Burk, Josh Appelbaum, and Andre Nemec will serve as executive producers; the latter two are also penning the pilot script.  Warner Bros. TV, with Abrams' Bad Robot, are backing the project.  Deadline reports that the show has a put-pilot commitment, meaning NBC will air the pilot and likely followup by picking up the series granting it a 13 to 20-something episode season.  The show will join Undercovers as the second Abrams production on NBC by *fingers crossed* next fall.
Update 2 (3/10): Development of the show has been postponed. In the meantime, you can catch Emerson and O'Quinn in new pilots this fall–CBS's Person of Interest and ABC's Hallelujah Hawaii Five-0. (Hallelujah is being retooled for Fall 2012.)