From Walt Disney Animation Studios comes what looks to be the next best video game movie in recent memory following Scott Pilgrim vs. the World. Wreck-It Ralph brings together the voices of John C. Reilly, Jack McBrayer, Jane Lynch, and Sarah Silverman to tell a story about a video game villain who wants to turn good. Here's a nice brief synopsis for you:
Wreck-It Ralph (voice of Reilly) longs to be as beloved as his game's perfect Good Guy, Fix-It Felix (voice of McBrayer). Problem is, nobody loves a Bad Guy. But they do love heroes… so when a modern, first-person shooter game arrives featuring tough-as-nails Sergeant Calhoun (voice of Lynch), Ralph sees it as his ticket to heroism and happiness. He sneaks into the game with a simple plan—win a medal—but soon wrecks everything, and accidently unleashes a deadly enemy that threatens every game in the arcade. Ralph's only hope? Vanellope von Schweetz (voice of Silverman), a young troublemaking "glitch" from a candy-coated cart racing game who might just be the one to teach Ralph what it means to be a Good Guy. But will he realize he is good enough to become a hero before it's "Game Over" for the entire arcade?
The animated, ingenious tale is directed by Rich Moore who previously worked on cartoons The Simpsons and Futurama. Watch the teaser trailer above and I guarantee you'll be hooked. If that support group scene featuring classic video game baddies such as Doctor Robotnik and Bowser from the Sonic and Mario franchises, respectively, doesn't brighten your day…
Wreck-It Ralph is out November 2.
Jump after the break for more trailers. (Click here for more…)
EW reports that writer/director Quentin Tarantino (Inglorious Basterds) is looking forward to making Kill Bill: Volume 3.  On an Italian talk show Tarantino said "he will make another installment of his successful Kill Bill series, but that he wants there to be a 10-year break between the second and third film."  This pegs the third installment for a 2014 release and, as EW notes, "star Uma Thurman at 44, just the right age to kick more ass."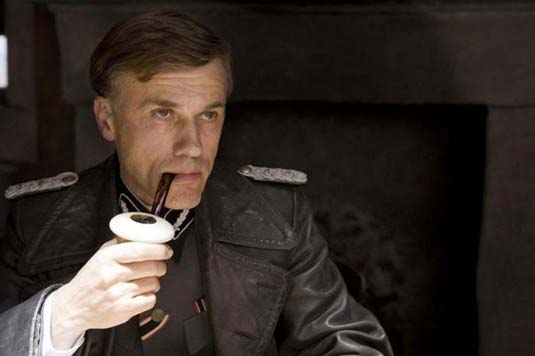 Inglourious Basterds is one of Quentin Tarantino's finest films made to date.  It is dramatic, it is comedic, it is gory, and it is very Tarantino.  The film is separated into five different "chapters" each involving its own storyline that connects to the one before it.  In traditional Tarantino style, emphasis is put on the (often subtitled) dialogue and subtle character interactions and expressions.  Those who are looking for immediate action may find this mildly irritating, though the eventual over-the-top gruesome action is quite satisfying.
From the trailer and overall buzz of the movie one would probably expect that Brad Pitt is the main protagonist and star of this film.  Although he does play an integral part as the leader of the Basterds, the "star role" is shared with the entire main ensemble and the supporting cast.  Christoph Waltz's portrayal as "Jew Hunter" Col. Hans Landa is magnificent, Mélanie Laurent's Shosanna Dreyfus is disturbing and enticing, and Diane Kruger shines as sexy actress and undercover German Bridget von Hammersmark.  It is worth mentioning that Pitt's role as Lt. Aldo Raine from Maynardville, Tennessee is one of his most real and convincing characters he has ever played.  It is clear to see that Tarantino wrote the part for him.
Basterds is a WWII movie unlike any you have ever seen before.  It will have you clapping (if not standing in your seat cheering softly, like me) at the end of the movie.  Tarantino strikes gold yet again with a great storyline, a successful mix of drama, comedy, and violence, a fierce musical score, and a brilliant cast that lifts this movie over their shoulders and holds it high throughout its lengthy but deserved duration.