No surprise here: Disney owned ABC is going all in with Marvel by picking up to series Marvel's Agents of S.H.I.E.L.D., from Avengers director Joss Whedon. Read the shiny new series synopsis now:
Clark Gregg reprises his role of Agent Phil Coulson from Marvel's feature films as he assembles a small, highly select group of Agents from the worldwide law-enforcement organization known as S.H.I.E.L.D. Together they investigate the new, the strange, and the unknown across the globe, protecting the ordinary from the extraordinary. Coulson's team consists of Agent Grant Ward (Brett Dalton), highly trained in combat and espionage, Agent Melinda May (Ming-Na Wen) expert pilot and martial artist, Agent Leo Fitz (Iain De Caestecker); brilliant engineer and Agent Jemma Simmons (Elizabeth Henstridge) genius bio-chemist. Joining them on their journey into mystery is new recruit and computer hacker Skye (Chloe Bennet). From Executive Producers Joss Whedon ("Marvel's The Avengers," "Buffy the Vampire Slayer"); Jed Whedon & Maurissa Tancharoen, "Marvel's Agents of S.H.I.E.L.D." pilot co-writers ("Dollhouse," "Dr.Horrible's Sing-Along Blog"); Jeffrey Bell ("Angel," "Alias"); and Jeph Loeb ("Smallville") comes Marvel's first TV series.  "Marvel's Agents of S.H.I.E.L.D." is produced by ABC Studios and Marvel Television.
Check out the kick-ass cast photo above; in the middle of it all is Phil Coulson, a S.H.I.E.L.D. agent who sporadically popped up throughout Marvel's Phase One movies and supposedly died in The Avengers. Guess not; #CoulsonLives. For more proof, check out a seven second teaser after the break. And during tonight's finale of Once Upon A Time at 8PM, ABC will air a lengthier spot promoting the new series. I'll post it here after it airs. Also after the break, a first look at the show's lens-flair-y logo.
Update: The full 30-second teaser trailer has landed. Watch it after the break. (Click here for more…)
Here's the first production still from the Once Upon A Time spinoff now titled Once Upon A Time In Wonderland. English born actress Sophie Lowe stars as Alice, seen for the very first time in the image posted above. Here's the latest synopsis provided by ABC:
In Victorian England, the young and beautiful Alice (Sophie Lowe) tells a tale of a strange new land that exists on the other side of a rabbit hole.  An invisible cat, a hookah smoking caterpillar and playing cards that talk are just some of the fantastic things she's seen during this impossible adventure.  Surely this troubled girl must be insane and her doctors aim to cure her with a treatment that will make her forget everything.  Alice seems ready to put it all behind her, especially the painful memory of the genie she fell in love with and lost forever — the handsome and mysterious Cyrus (Peter Gadiot).  But deep down Alice knows this world is real and just in the nick of time, the sardonic Knave of Hearts (Michael Socha) and the irrepressible White Rabbit (John Lithgow) arrive to save her from a doomed fate. Together, the trio will take a tumble down the rabbit hole to this Wonderland where nothing is impossible.
This fresh adaptation of Lewis Carroll's tale down the rabbit hole comes from Once co-creators Edward Kitsis and Adam Horowitz and will be executive produced by Steve Perlman and Zack Estrin. Wonderland is envisioned as a standalone, limited series that will air when the flagship series is on its winter hiatus. In a way, it will bridge the gap during the break. Next week ABC will be unveiling its entire slate of new series for next season and there the network will likely shed even more light on the exciting promise of a new realm to be explored.
A female Watson? Who's laughing now. Today CBS made the decision to pick up full seasons of new dramas Elementary and Vegas. The Sherlock Holmes-inspired procedural starring Jonny Lee Miller and Lucy Liu averages 14.3 million viewers and a 3.5/10 rating in the adults 18-49 demo. The American period drama starring a cowboy sheriff (Dennis Quaid) and a Chicago mobster (Michael Chiklis) averages 14.9 million viewers and a 2.7/8 in adults 18-49. Full season orders (22 episodes to be exact) were expected.
CBS Entertainment president Nina Tassler on the back-nine orders: "Vegas and Elementary have opened strong, delivering big audiences and winning performances in important time periods. Each of the shows has rich characters, big stars and a unique visual style that have stood out in the crowd, helping make two of our strongest nights even stronger."
With drama Made In Jersey dead and gone, the only new fall show from CBS that has yet to receive its fate is multi-cam sitcom Partners. In its most recent outing the comedy scored a 2.1/6 rating, up 11% from the week prior. Such a stat is nothing to call home about, but I'd say things are looking positive for Partners.
Earlier this year Frank Darabont divulged his next TV project following his exit from AMC's The Walking Dead. Today TNT greenlit the project ordering a total of six episodes that will comprise season one. For the uninitiated, here's a newly released series synopsis.
This new series tells the true story of a decades-long conflict between the Los Angeles Police Department, under the determined leadership of Police Chief William Parker, and ruthless criminal elements led by Mickey Cohen, a one-time boxer who rose to the top of L.A.'s criminal world. The series is a fast-paced crime drama set in Los Angeles during the 1940s and '50s. It's a world of glamorous movie stars, powerful studio heads, returning war heroes, a powerful and corrupt police force and an even more dangerous criminal network determined to make L.A. its West Coast base.
If you're like me and following Darabont from Atlanta to Los Angeles, you'll be happy to hear that he's recruited not one but two stars from his acclaimed zombie drama. Jon Bernthal (The Walking Dead's Shane) stars as Joe Teague, an ex-Marine now working as an LAPD cop in an era rampant with police corruption. Jeffrey DeMunn (Dale) plays Det. Hal Morrison, who heads up the LAPD's new mob squad. The series also stars Neal McDonough (Captain America) as Capt. William Parker, Teague's boss who is determined to weed out corruption and bring down Mickey Cohen; and Milo Ventimiglia (Heroes) plays Ned Stax, who fought alongside Teague during World War II but who now works as a lawyer with connections to the mob.
TNT president and head of programming Michael Wright on the pickup: "This series is an intense, exciting drama that takes viewers back to a truly fascinating time in the history of Los Angeles. Frank Darabont, Michael De Luca and Elliott Webb have delivered an outstanding opening episode that evokes the time and place in stunning detail. Together with a pitch-perfect ensemble cast and top-notch production crew, they have woven an engrossing tale of heroism in the face of greed and corruption. We're very excited to be working with such talented storytellers in bringing this project to life."
L.A.Noir, based on the book L.A. Noir: The Struggle for the Soul of America's Most Seductive City by John Buntin, will premiere in 2013.
[Via TNT]
FOX believes in its Tuesday night comedy lineup. Today the network handed out additional episodes for its two new fall comedies. The Mindy Project has been given "the back nine," meaning it has received a full season order and will produce a total of 22 episodes. Ben And Kate, meanwhile, will air six more episodes on top of its original 13 episode order and so its first season will comprise of 19 installments. Why didn't Ben And Kate receive the typical "back nine?" Well that's simply because FOX has another new comedy on tap for midseason that is set up to take its place, The Goodwin Games.
FOX chairman Kevin Reilly on the pickups: "Ben And Kate and The Mindy Project have everything we want to stand for in comedy: smart writing, hugely appealing casts and comedy that feels contemporary and real–which is why we're confident they will continue to build on what is already an appointment comedy night for young, influential audiences on Tuesdays."
The ratings for these two so far haven't been exceptional, but this is further proof that FOX is invested in them. The Mindy Project pilot received a 2.4 rating in the adults 18-49 demo and attracted 4.6 million viewers; these numbers dropped (as they do) in week 2 to a 1.9 share and 3.68 million viewers. Ben And Kate's premiere received a 2.1 rating in 18-49 and attracted 4.2 million viewers; these dropped to 1.6 and 3.2 million viewers the following week.
In its first outing, The Mindy Project didn't sit entirely well with me. Come episode 2, however, I was fully engaged and excited for more from Mindy Kaling. Ben And Kate, on the other hand, managed to surprise me by how incredibly hysterical and perfectly casted it is so early in its run.
So you know that feeling after you watch an episode of The Walking Dead and you want to burst out in excitement about just how awesome that episode really was? Well AMC is giving you an outlet to do that. Prepare for (what for it) Talking Dead, a live after-show to be hosted by comedian Chris Hardwick (Web Soup, Attack of the Show). According to a press release the show "features Hardwick spending time with fans, actors, producers and tv enthusiasts, recapping that most recent Dead episode, and taking questions and comments from viewers. Fans may continue to engage with the Aftershow following the on-air conclusion, online, at amctv.com for more conversations, questions and trivia."
Says fanboy Hardwick: "As an enormous fan of both The Walking Dead comic and television show, I pretty much begged for this job. I'm fairly certain I slobbered on the phone while doing it. Dissecting the moves of Rick Grimes and the remaining survivors after every episode is something I would be doing with my friends anyway, so the fact that AMC is actually paying to do so is a bonus. This half-hour after-show gives fans the opportunity to nerd out about the story in a very public forum: what they like, what they don't like, or what questions they may have. Additionally, it will better inform viewers on making intelligent decisions when faced with the zombie apocalypse which will probably happen sooner or later."
Adds AMC's Joel Stillerman: "Fans of The Walking Dead are incredibly engaged with every aspect of the show. They tweet, blog, and post comments in very large numbers, and we wanted to give them an opportunity to interact with the show in a way that they don't currently have – a kind of live water cooler. And, we knew we needed a great host, and are thrilled to have Chris Hardwick on board. He is genuinely knowledgeable about the genre, and truly entertaining."
So there you have it. Now here's how it'll air. Talking Dead will debut immediately following the encore airing of The Walking Dead season 2 premiere (that is on Sunday, October 16) and then beginning on Friday, November 4th it'll follow TWD's encore at 11PM.
We all knew it was going to happen, but now it's official: FOX has picked up Touch, a new series from creator Tim Kring (Heroes) and starring Kiefer Sutherland (24), to series for a midseason debut. The network has ordered a 13-episode arc expected to premiere in the spring of 2012.
Fox prez Kevin Reilly on the pickup: "Touch is another ambitious series from Tim Kring that is beautifully executed and has incredibly resonant themes for our times. With Kiefer back on the network as the face and force behind this creative new series, I'm confident it will resonate with viewers this spring."
Adds Sutherland: "Every once in a while, you encounter a piece of material that you just cannot say no to. That, combined with the opportunity to work again with Peter Chernin and the Fox studio and network, makes me thrilled to be a part of this project. I also look forward to working with an extraordinary writer and producer like Tim Kring."
Need to be reminded of what Touch is all about? The latest press release describes it like this: "Touch is a distinct and colorful drama in which science and spirituality intersect with the hopeful premise that we are all interconnected, tied in invisible ways to those whose lives we are destined to alter and impact." Hop after the break to read a juicier plot description. Touch stars Sutherland, David Mazouz, Gugu Mbatha-Raw, and Danny Glover. Kring, Francis Lawrence (Water for Elephants, I Am Legend), Peter Chernin, Katherine Pope, Sutherland, Suzan Bymel, and Carol Barbee serve as executive producers; Lawrence helmed the pilot.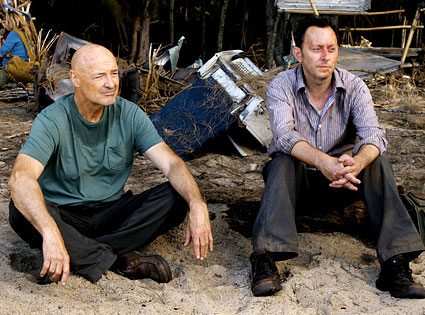 Read that headline again.  Now again.  J.J. Abrams, creator of Lost, is hoping to bring together Terry O'Quinn and Michael Emerson (aka Lost's John Locke & Benjamin Linus) for a new series.  O'Quinn and Emerson would play former black-ops agents in the comedic drama tentitively titled Odd Jobs.  News first broke about a potential reuniting of Lost's brightest stars back in February when O'Quinn told TV Guide about "a TNT-type show that would pair him back up with…Michael Emerson as suburban hit men juggling family issues."  Much time has passed, and now things are starting to heat up again.  Plans to make this show a reality are very real.  NYMag reports that Abrams and collaborators Josh Appelbaum and Andre Nemec (Alias, Mission: Impossible 4) are pitching Odd Jobs to a handful of TV networks.  All I can say is that if these plans do result in a Locke/Linus buddy cop show, the world will be a better place for it.
Update: According to Deadline, this thing is happening!!  After shopping around Odd Jobs (working title) to various networks, NBC came out on top with the winning bid.  It was a nailbiter between former Lost home ABC and NBC, but in the end the Peacock nabbed it.  It's official: The one hour long drama will star the fantastic Terry O'Quinn alongside Lost-mate Michael Emerson.  J.J. Abrams, Bryan Burk, Josh Appelbaum, and Andre Nemec will serve as executive producers; the latter two are also penning the pilot script.  Warner Bros. TV, with Abrams' Bad Robot, are backing the project.  Deadline reports that the show has a put-pilot commitment, meaning NBC will air the pilot and likely followup by picking up the series granting it a 13 to 20-something episode season.  The show will join Undercovers as the second Abrams production on NBC by *fingers crossed* next fall.
Update 2 (3/10): Development of the show has been postponed. In the meantime, you can catch Emerson and O'Quinn in new pilots this fall–CBS's Person of Interest and ABC's Hallelujah Hawaii Five-0. (Hallelujah is being retooled for Fall 2012.)
Well, that didn't take too long.  About one week after it was spilled that Josh Friedman (showrunner/executive producer/writer), Steven Spielberg (executive producer), and Roberto Orci & Alex Kurtzman (executive producers) were going to work on an adaptation of Joe Hill's comic book Locke & Key FOX swiftly decided to pick up the show and made a series commitment to the project.  For a show to receive a direct-to-series order says a lot about the potential for it.  Upcoming shows like The Walking Dead (AMC) and Terra Nova (FOX) follow in Locke & Key's footsteps; they were given a full series order without having to prove their worth by taping a pilot episode beforehand.  Heather Kadin, Justin Falvey, Darryl Frank and Ted Adams join as executive producers.  20th Century Fox and DreamWorks TV are signed on to back the venture.  And according to The Hollywood Reporter, there are talks that the show will be "a potential summer project."  Glad to hear things are full steam ahead.
Locke & Key follows three teenage brothers, Tyler, Kinsey, and Bode Locke, who move to a Massachusetts mansion where they find the mystical Ghost Door which grants them powers, including the ability to separate his spirit from body and to transport between different worlds.
You know Rob Corddry.  He started as a correspondant on The Daily Show and he starred in the failed FOX series The Winner and movies Harold & Kumar: Escape from Guantanamo Bay and Hot Tub Time Machine.  Well he's a got an award-winning web series called "Childrens Hospital" and it's downright hysterical.  Created and written by Corddry and collaborators David Wain and Jonathan Stern, "Childrens Hospital" is a satirical medical comedy that "explores the emotional struggles and sexual politics of a group of doctors charged with healthy libidos.  Their dedication to their personal lives is relentless, interrupted only by the occasional need to treat sick children." 
Check out this all-star cast: Rob Corddry, Malin Akerman (Watchmen), Lake Bell (How To Make It In America), Ken Marino (Party Down), Megan Mullally (Will & Grace), Rob Huebel (Human Giant) and Henry Winkler.  And the guest stars are even better:  Ed Begley Jr. (Arrested Development), Nick Offerman (Parks and Recreation), John Cho (Star Trek), Ernie Hudson (Ghostbusters), Kurtwood Smith (That '70s Show), Lizzy Caplan (Party Down), Rachel Harris (The Hangover) , David Wain, Paul Scheer (Human Giant), Kerri Kenney-Silver (The State), Marion Ross (Happy Days),  Erinn Hayes (Worst Week),  Jason Sudeikis (SNL),  Ed Helms (The Office), and Michael Cera (Arrested Development).
What started as a web series is being turned into a television show to be aired on Adult Swim (late-night Cartoon Network) this summer.  You can watch season one in its entirety right now at TheWB.com, or you can wait to watch it on TV starting July 11 at 10:30PM.  Watch the trailer here.  Ten episodes have been produced and they're each about 4-5 minutes long.  Season two will follow in August.
[Via IGN]
After going through sixteen different variations, The Mighty Morphin Power Rangers are going back to their roots.  Original creator Haim Saban has bought the series back from Disney and is bringing it to Nickelodeon.  Season 18 of Power Rangers, set to premiere sometime in 2011, has been given a 20 episode run and will include a new cast.  Nick also plans to re-air over 700 episodes spanning the series' seventeen seasons.  Also, according to the AP, Saban is planning on releasing a Power Rangers feature film, the first since 1997′s Turbo: A Power Rangers Movie.  Go, go Power Rangers!
[Via IGN]
And the first new scripted TV program of the fall is… J.J. Abrams' spy drama Undercovers.  NBC pounced on this back in December, and now it has been made official.  NBC ordered an inital 13 episode run set to start in September.  Undercovers is about a married couple (Boris Kodjoe & Gugu Mbatha-Raw) who play ex-CIA agents that are pulled back into the "into the world of espionage."  That's right people; Abrams is going back to his roots (Alias, MI:3).  Here's the synopsis:
Outwardly, Steven Bloom (Kodjoe) and his wife, Samantha (Mbatha-Raw), are a typical married couple who own a small catering company in Los Angeles and are helped by Samantha's easily frazzled younger sister, Lizzy (Jessica Parker Kennedy). Secretly, the duo were two of the CIA's best spies until they fell in love on the job five years ago and retired. When fellow spy and friend Nash (Carter MacIntyre) goes missing while on the trail of a Russian arms dealer, the Blooms are reinstated by boss Carlton Shaw (Gerald McRaney) to locate and rescue Nash. The pair is thrust back into the world of espionage as they follow leads that span the globe — and Steven and Samantha realize that this supercharged, undercover lifestyle provides the excitement and romance that their marriage has been missing.
Jeff Gaspin, Chairman, NBC Universal Television Entertainment: "We have tremendous confidence in this promising series and feel this is a great way to kick off our upcoming Upfront development announcements. J.J. has delivered another signature series along with our partners at Warner Bros and we couldn't be happier."  NBC President Angela Bromstad: "Having J.J. on our creative team is a great reason for celebration. In Undercovers, he's found a breakout couple that is rich in character and brimming with romance and action. We feel he's found the perfect cast."
Abrams will servce as co-writer, executive producer, and co-creator (with Josh Reims).  He also directed the pilot; this is the first time he's directing a TV show episode since the Lost pilot.  This should be good.  Keep it on your radar.
[Via EW-Ausiello Files; IGN]